BungeeConnect Delivers on 'Rocket' Promise -or- Real-Time Smart Trips Statistics!
• James Mason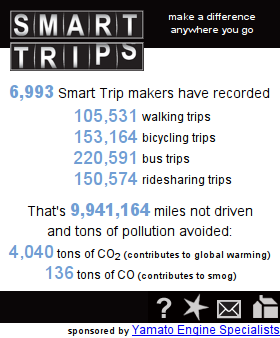 The news is starting to get out that Whatcom County, WA's
Smart Trips program
is not just environmentally smart, but tech-savvy too. Last week they launched a Web Service providing real-time stats on the environmental impact of not driving alone. This is something I've been pushing for, in order to make the impressive stats a bit more accessible.
A few hours after receiving a link to the WSDL, I had a working demo running in
BungeeConnect
. A bit of wrangling back and forth on the style, and within a couple days, I have a functioning
Google Gadget
that mimics a printed poster of the statistics. Of course the poster's size is more impressive, but it's not real-time!
This is, without a doubt, the fastest I've ever delivered anything on the web. It's also my first Google Gadget, and the first time I've consumed a WSDL.
Props to the team at
Bungee Labs
for making it easy,
Yamato Engine Specialists
for sponsoring the effort, and the staff at
Smart Trips
for being flexible enough to jump into the web services pool.
So, add it to your
iGoogle page
, or
any web page
for that matter!